Why Choose our 100% Plant Based Straws?
Ditch Plastic and Bioplastic for our Sustainable Collection of Smoothie and Juice Bar Straws
SMOOTHIE
BAR
ONE SIMPLE CHANGE

ELIMINATES plastic and bioplastic based straws forever.
ENGAGES your café in the sustainability movement.
EMBRACES nature and its existing resources .
ELEVATES your eco image.
ENHANCES the drinking experience.
The Earth Friendly Juice and Smoothie Straw
Our reed straws are similar to bamboo with similar strength and durability, and are 100% made from natural reed plant stems. Better yet, they are certified 100% USDA Biobased, certified compostable and 100% biodegradable on land or sea.

Offered in 250ct boxes or cases of 1500ct.

SMOOTHIE STRAW
ECO HIGHLIGHTS
Reusable
Durable
100%
Bio-based
Hand Selected for Drinkability
Never Manufactured
Dishwasher
Safe
Marine Degradable
Zero Waste
The ECO-CLASSY Plant Based Straw
Guilt-free Drinking

Socially Responsible

Certified Compostable
100% Plastic Free

Reusable
Durable
100% USDA
Bio-based
Hand Selected for Drinkability
SMOOTHIE STRAW
ECO HIGHLIGHTS
Never Manufactured
Dishwasher Safe
Marine Degradable
Zero Waste
Our 100% Plant Based Wheat Stem Drinking Straws can be Paired with and Assortment of Organic Juices
Our single use wheat stem straws are guaranteed to stand the test of time and never get soggy. Perfect for organic juices and manufactured by Mother Earth. Similarly, they will biodegrade naturally on land or sea and not contribute to downstream waste

Offered in 500ct boxes or cases of 3000.
Switch to Bamboo Cutlery
Crafted from 100% plant-based, FSC® certified bamboo; our bamboo cutlery line is an elegant, durable and sustainable alternative to plastic, bioplastic or wooden cutlery.

Designed for the foodservice industry, bamboo cutlery is a true enhancement to the dining experience and embodies a harmony between functionality and environmental consciousness.

CUSTOM BRANDED STRAWS
Ready to elevate your SMOOTHIE BAR to the NEXT level?
Our laser engraved straws are a great way to personalize and market your brand while demonstrating your commitment to sustainability. Your customers will remember you for many drinks to come!
Personalize Yours Today
Store your Eco-Friendly Straws in Style.
We have our clients covered with complimentary
bar caddies and/or straw holders.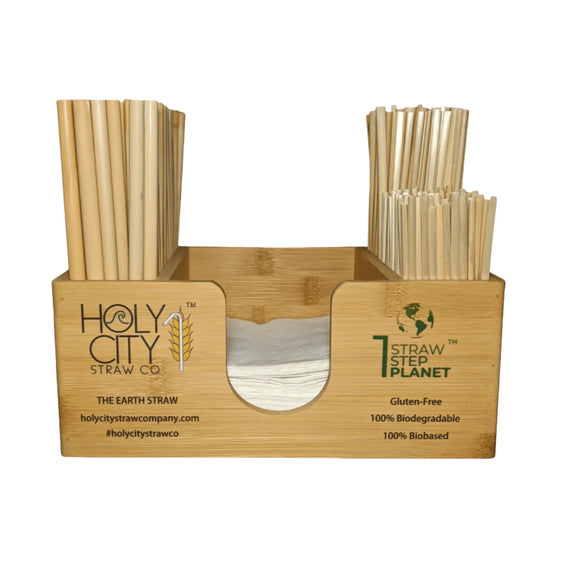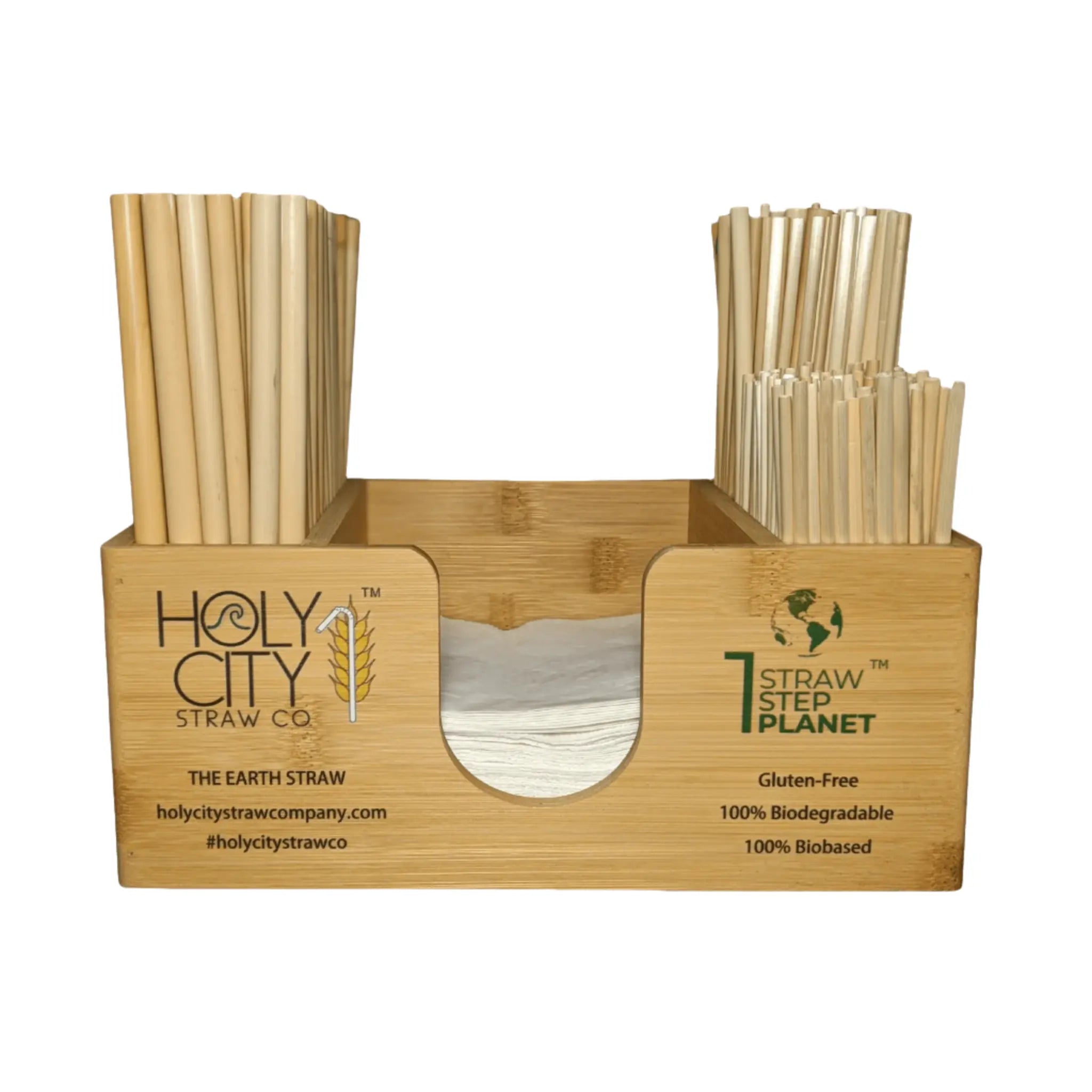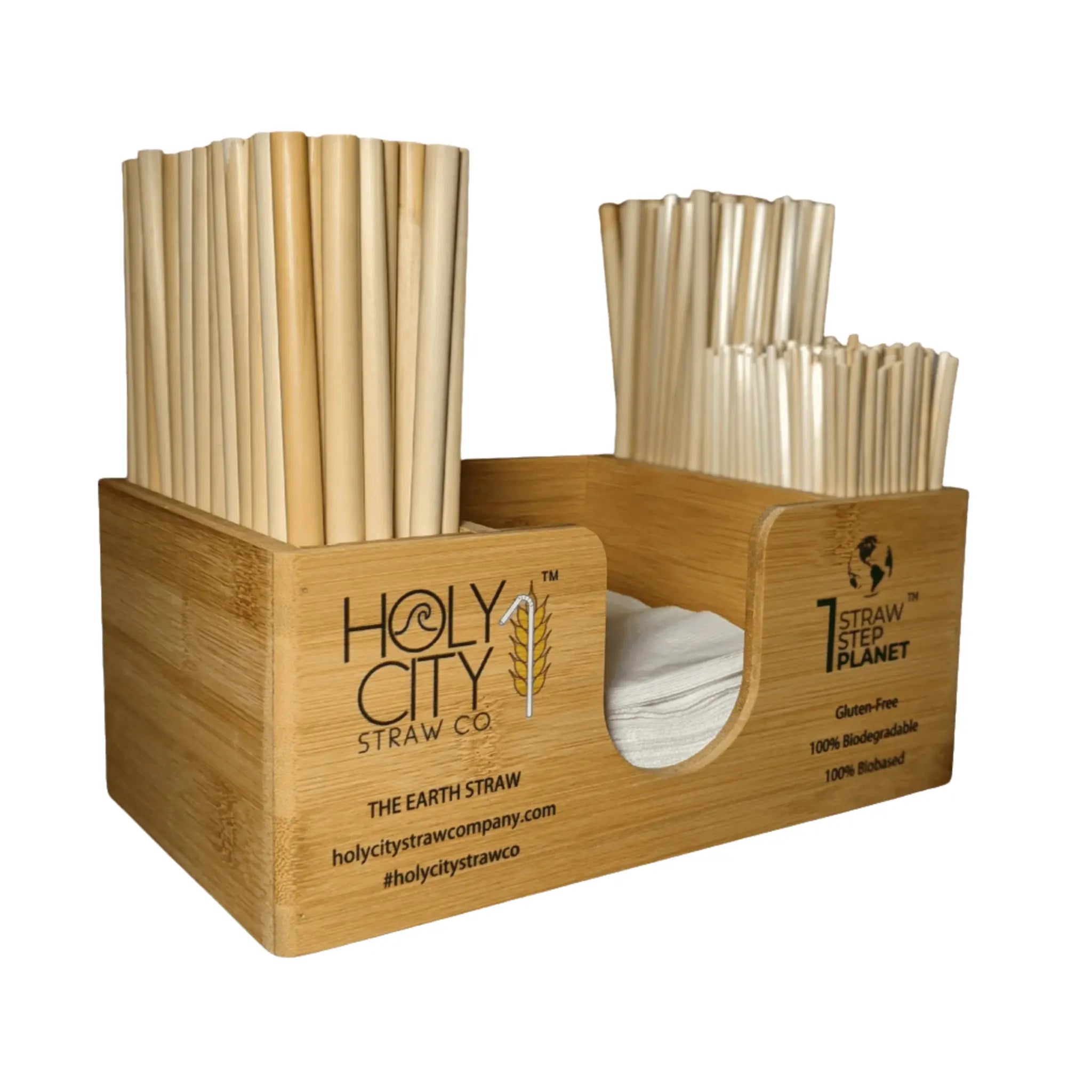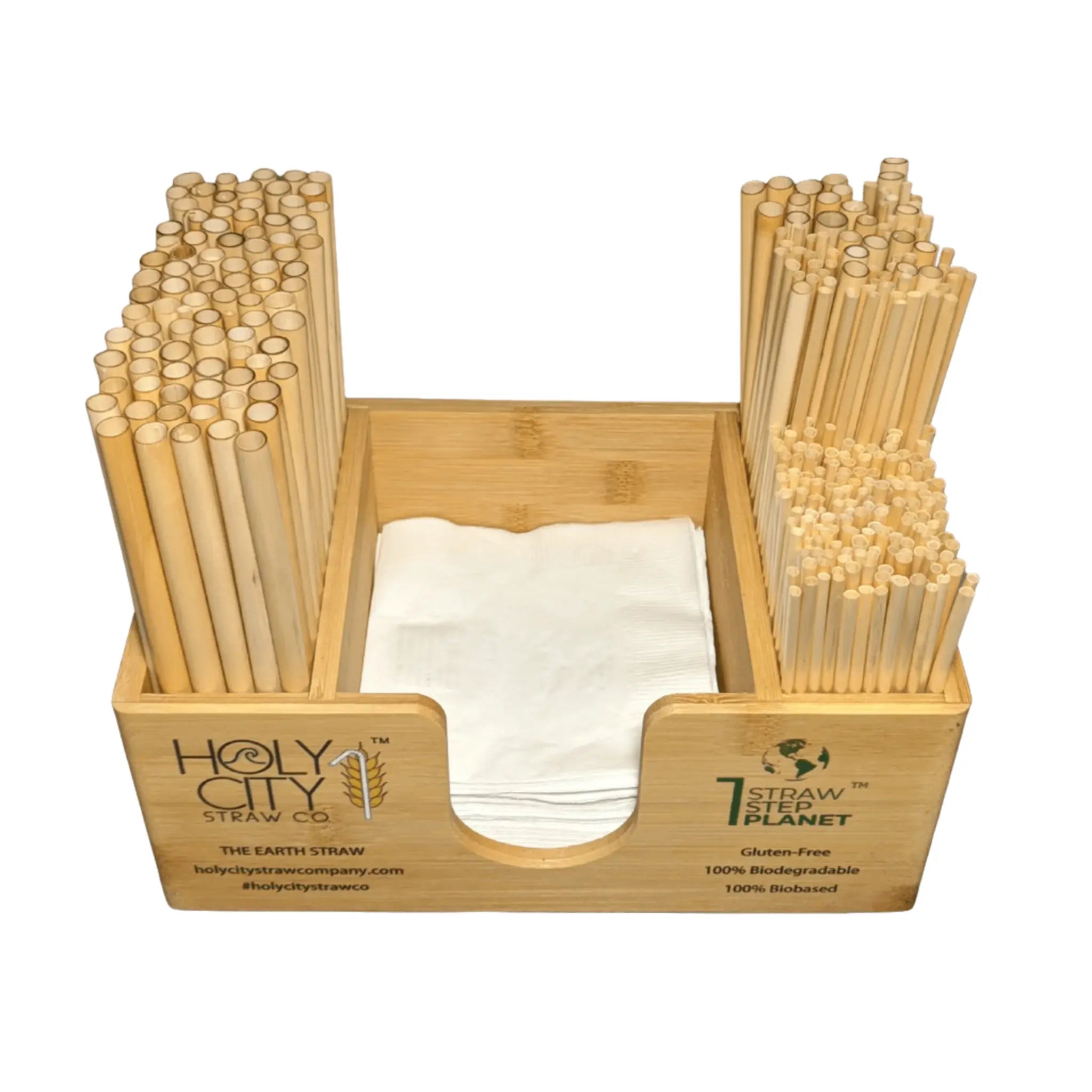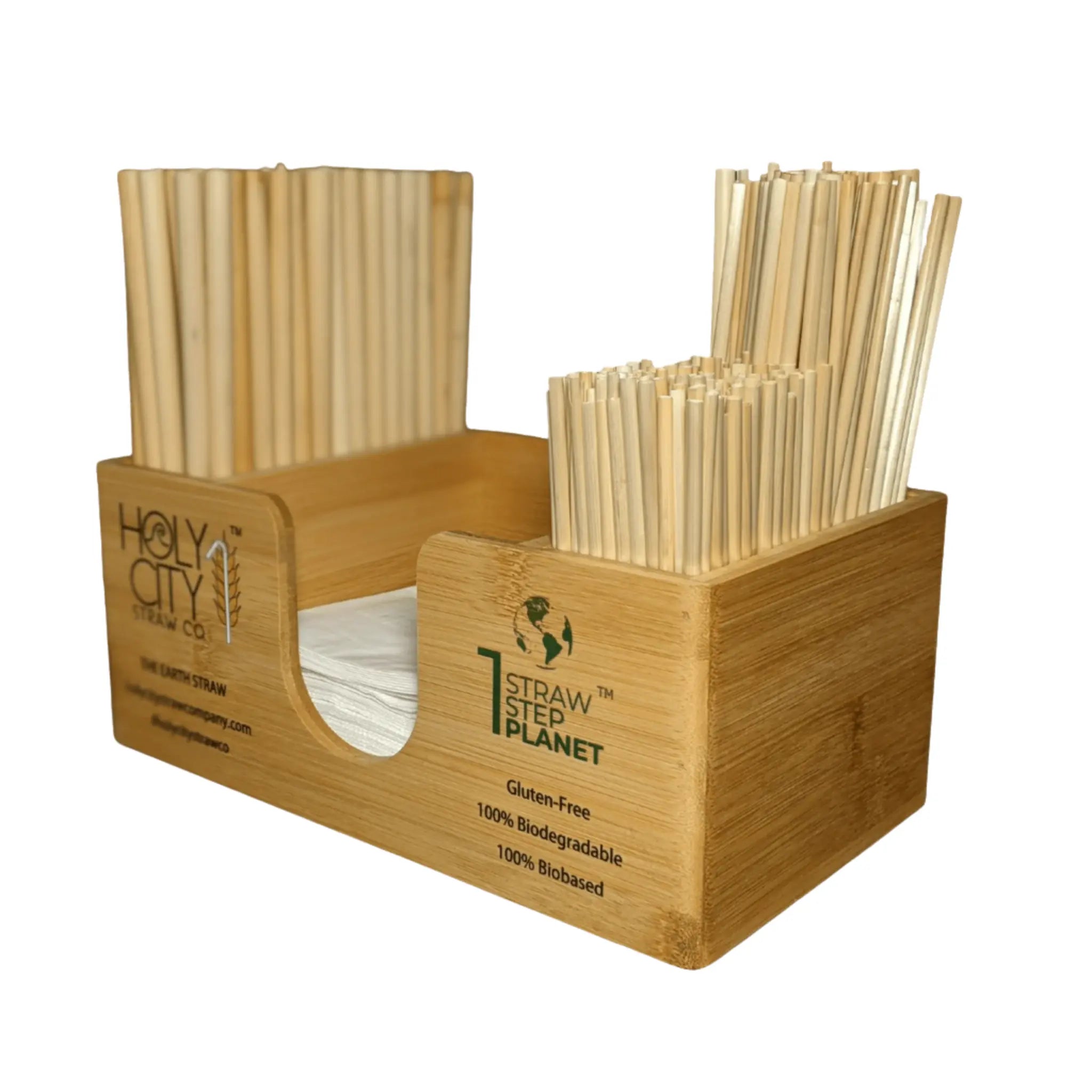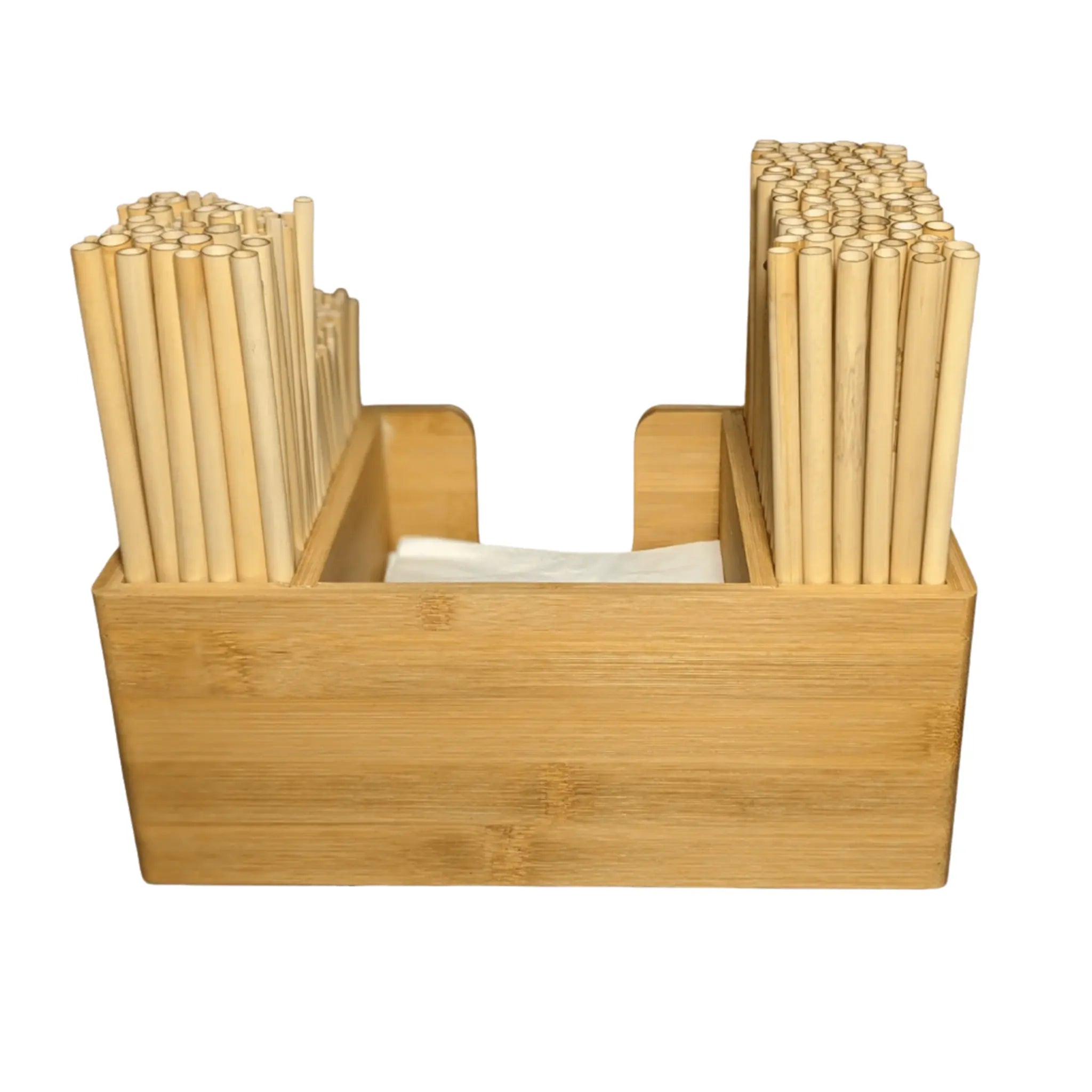 BAR CADDY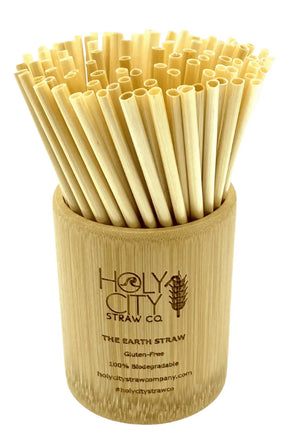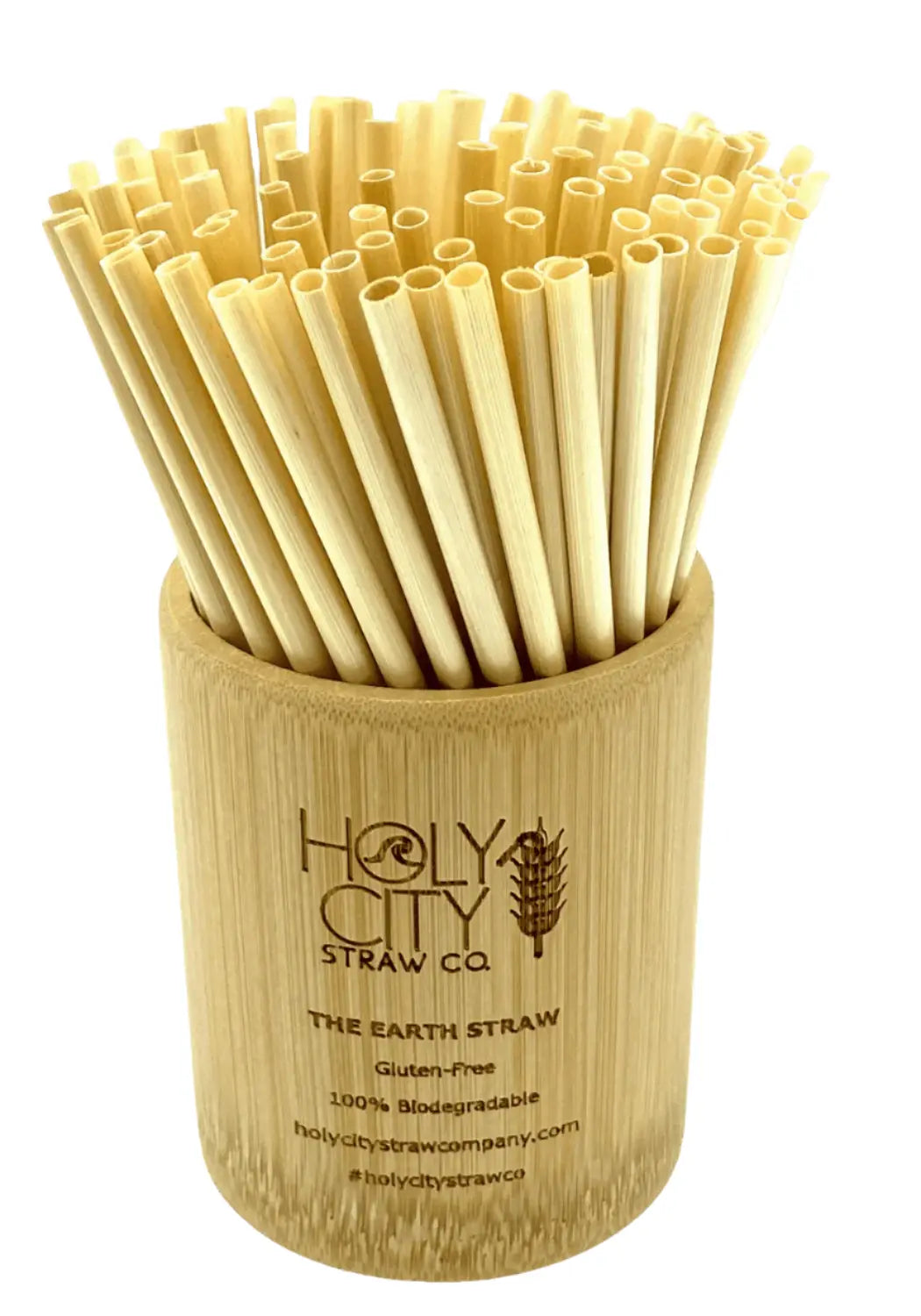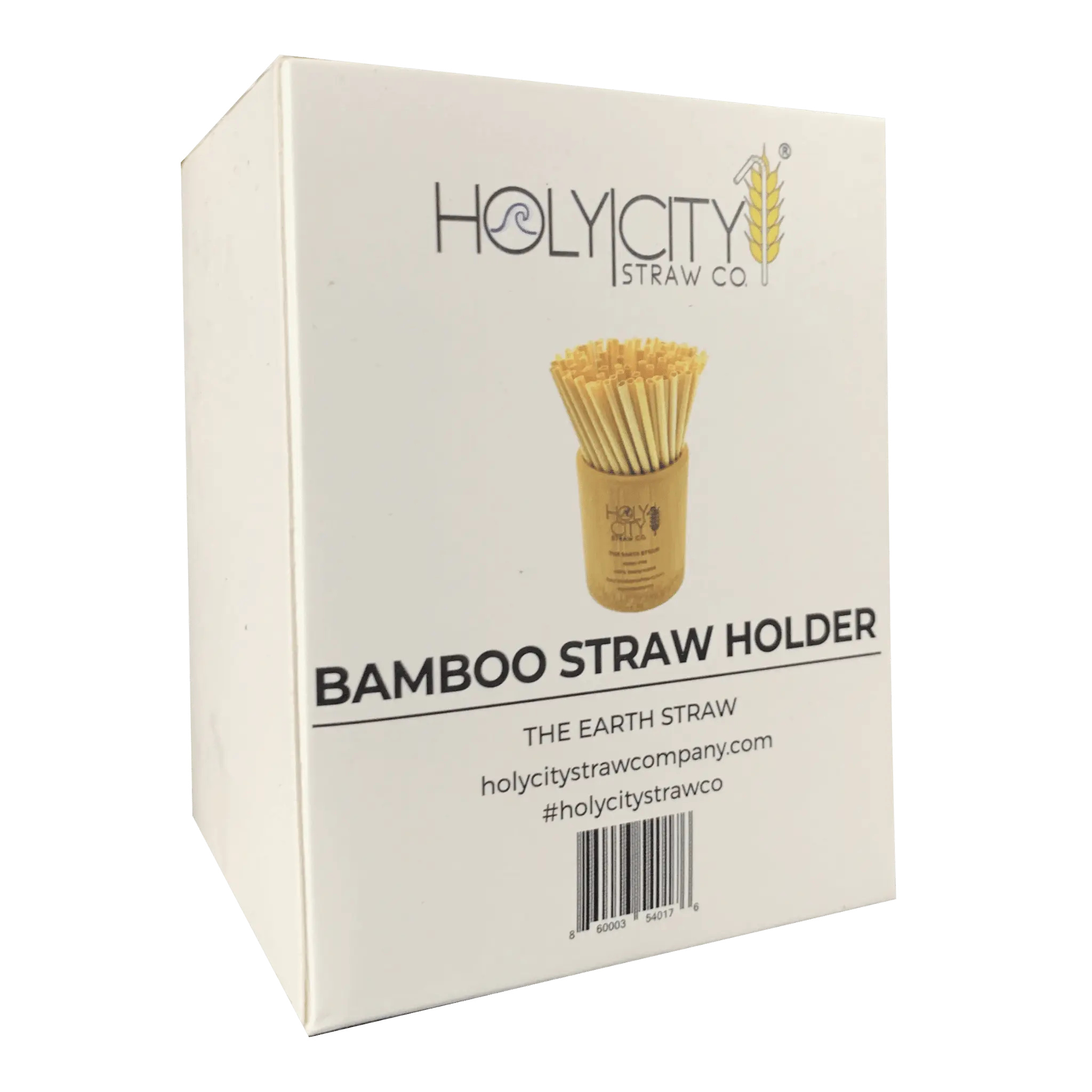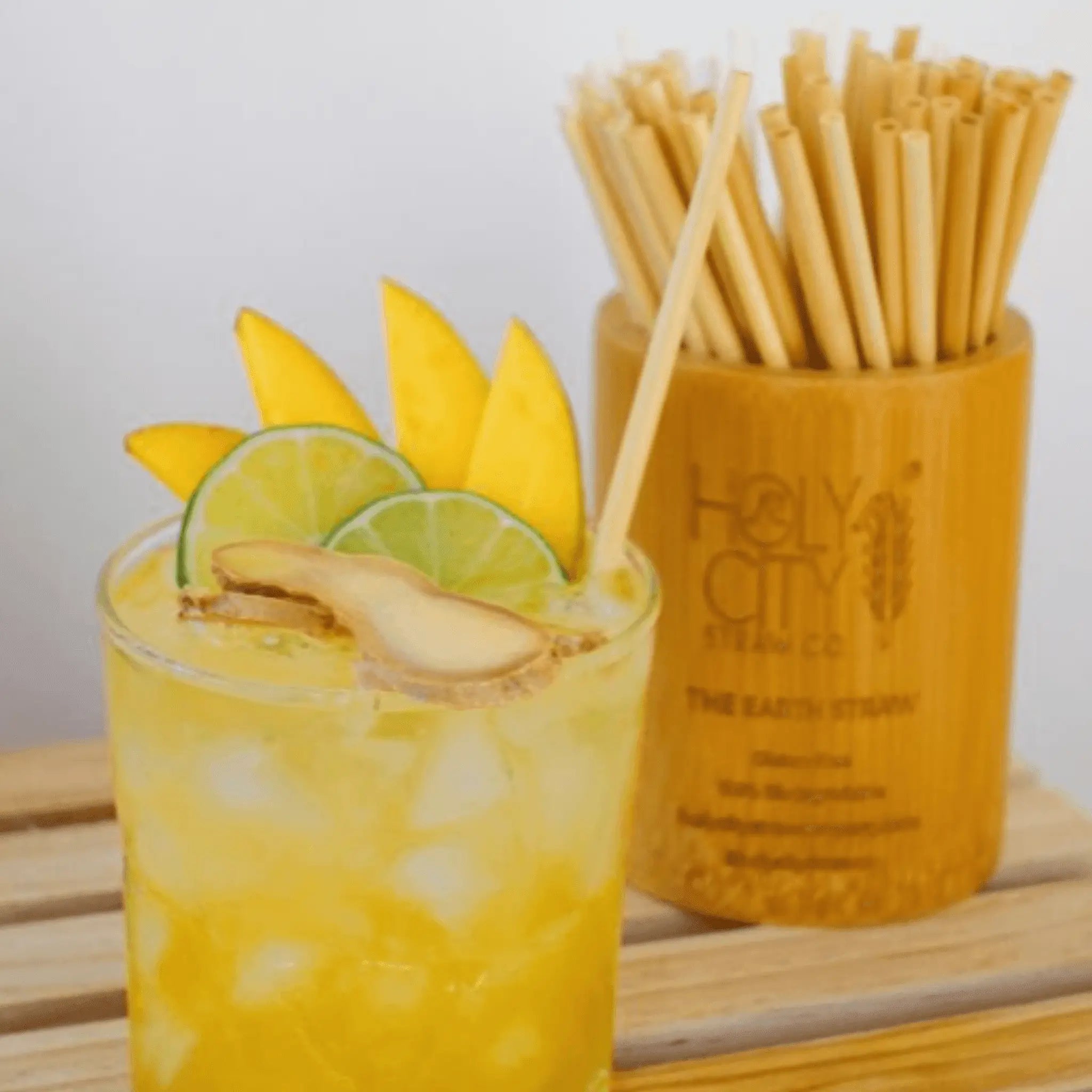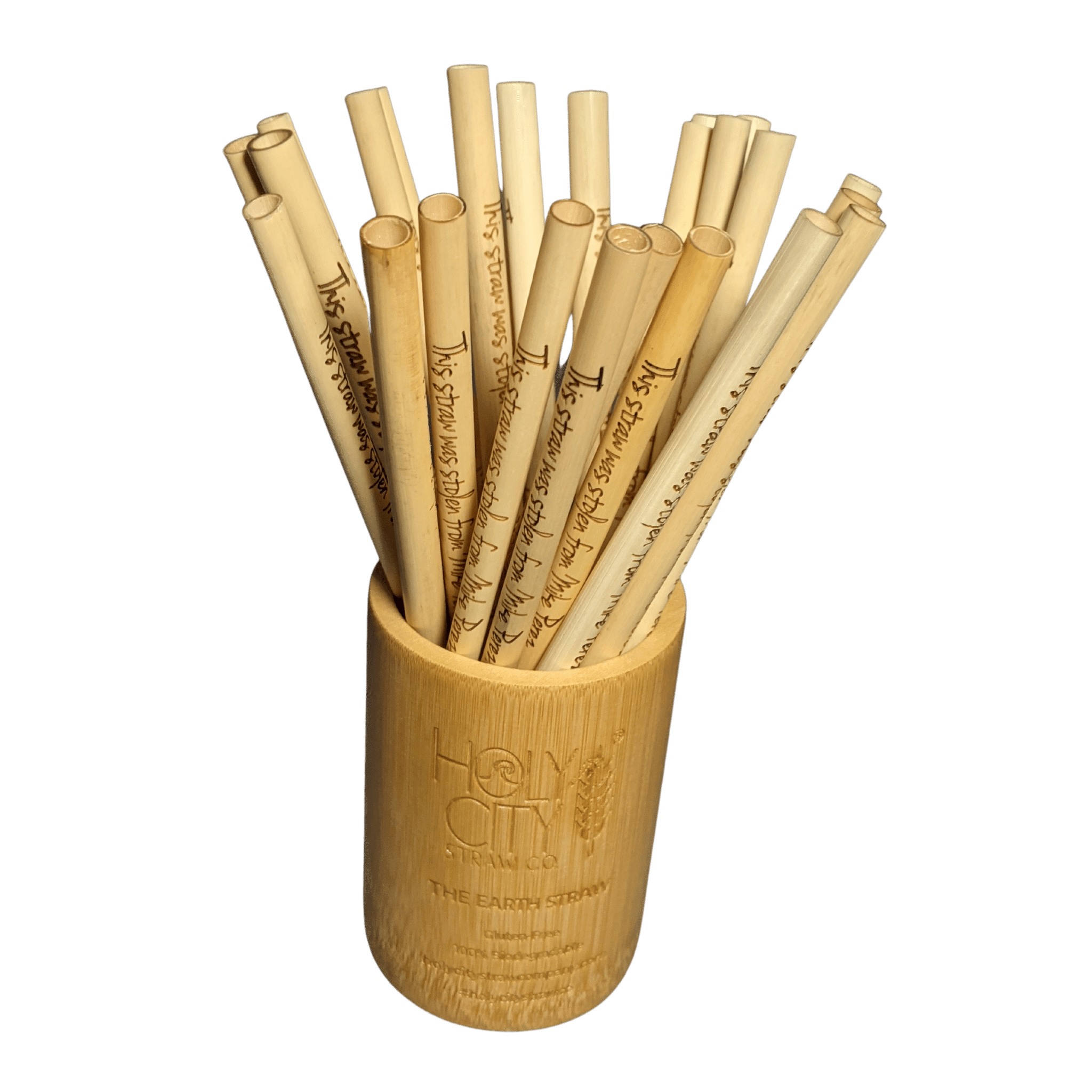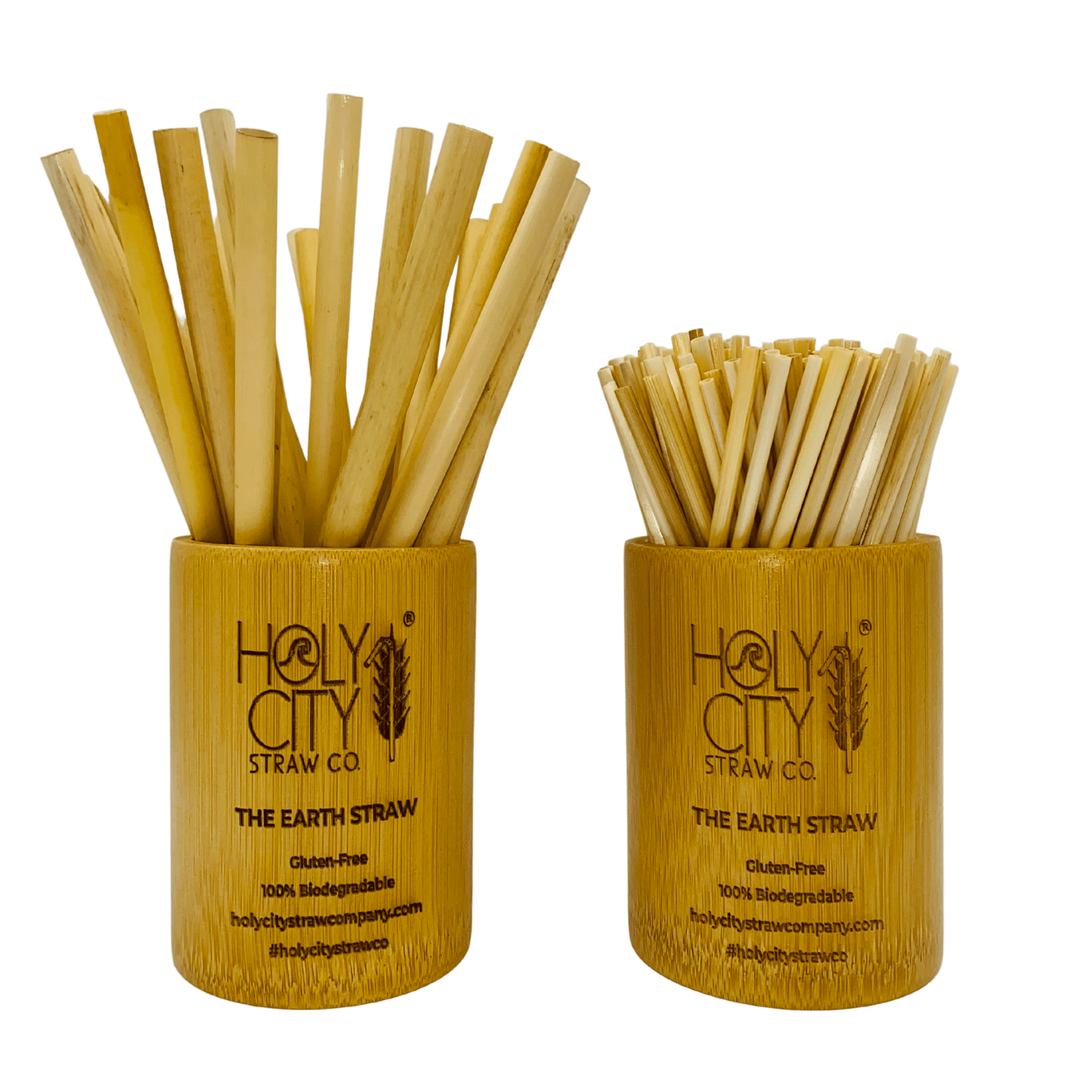 STRAW HOLDER
HOLY CITY STRAW COMPANY
ECO-PRODUCT AWARENESS
BULK PRICING
Purchase Sustainable Drinking Straws in Bulk.
Maximize savings with wholesale pricing and save big. Our flexible and automated solutions will have the product at your front door at competitive prices. We can even store your inventory in our warehouse and drop-ship when needed.
Fill out a Bulk Pricing Form Here
Environmentally Sustainable
99% USDA Bio-based
Wheat Straw
Gluten Free
HOLY CITY STRAW COMPANY
ECO-PRODUCT AWARENESS
Carbon Free Shipping
Chemical & Pesticide Clear
Food Safe
RETAIL PORTFOLIO
Is your business currently selling branded merchandise, swag or other health food accessories?
We offer a comprehensive consumer based product portfolio that could enhance your retail sales. Our 50ct. Wheat pack, 10ct. Reusable Reed pack and branded straw/pouch combo is the perfect sustainable retail addition for your smoothie bar.
Apply for a Wholesale Account
Clients love our Products and Services. Period.
Just ask our happy customers.
Section
Drop element here!